New and updates:


PIXEL: Indigenous Art Exhibition Launch

Join us as we celebrate the launch of PIXEL: Indigenous Art Exhibition. Featuring work by 25 Brampton and GTA-based Indigenous artists.

I'm thrilled to announce my participation in the Bramton Arts Organization's Pixel:



Indigenous Art Exhibition, opening on Friday, October 20th, 2023!

https://www.eventbrite.ca/e/pixel-indigenous-art-exhibition-launch-tickets-728999827107?aff=ParticipatingArtist

---
Welcome to Project 31

(with auctioneer Stephen Ranger)


Please join us in supporting OCAD University BIPOC students, I've donated work and hope to see you all there!

Link: https://can.givergy.com/project-31/?controller=home

"On Tuesday, November 28, join local art collectors and enthusiasts at a unique in-person event that will showcase a world-class collection by some of Canada's leading contemporary artists and designers. It all takes place at 100 McCaul St, the main campus of OCAD University in the Great Hall.

Project 31 will feature entertainment, refreshments and up to 20 lots in an exciting live auction. Up to 30 lots will be available in a silent online auction. From sculptures to paintings to mixed media pieces – don't miss the opportunity to acquire exceptional works from Canada's leading art, design and new media creatives."

Early-bird ticket price extended until midnight, October 25 2023
Proceeds from this unique fundraising event will support programming and bursaries for OCAD University students who are Indigenous, Black and People of Colour.

Thank you for your continued support!



---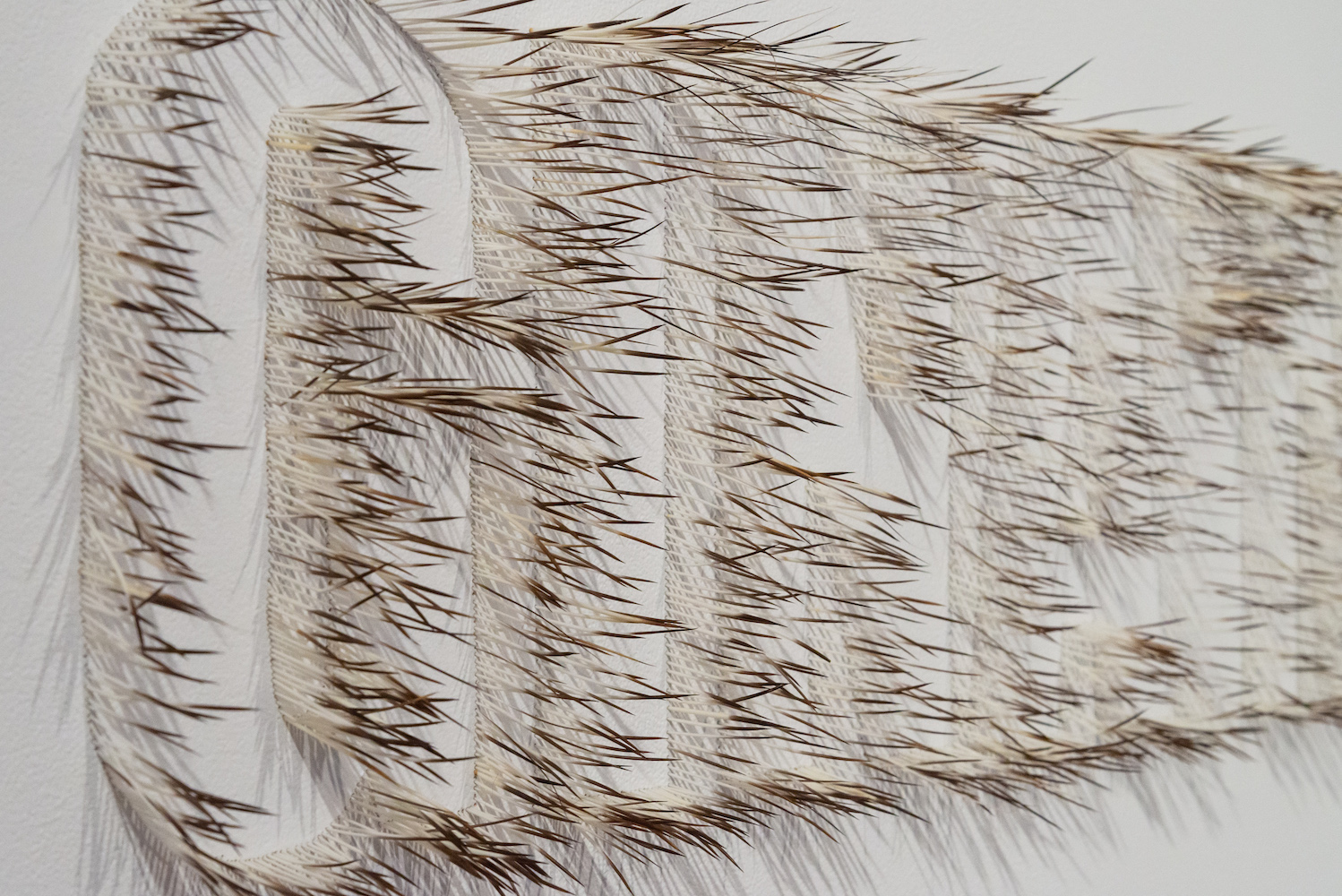 The Indigenous Visual Culture program at OCAD University is celebrating our 10th anniversary with an exhibition. This exhibition will showcase the talent and diverse practices of the Indigenous Visual Culture community, including current and former students and faculty.

Nigig, the otter, is the totem of the Indigenous Visual Culture program at OCADU. We chose the otter because they dive down into the depths of unknown waters and emerges with a tool upon which to crack open the shell of their imagination. They are playful, dexterous, inventive, curious, filled with boundless energy and joy.

Opening Reception June 21, 3pm

June 21 - August 14th, 2023 at OCAD University's Ignite Gallery located at 100 McCaul St.


---
"in parallel
Ella Gonzales, Micah Lexier, Matt Nish-Lapidus, Erdem Taşdelen, Sami Tsang, and Shaheer Zazai
June 23–September 4, 2023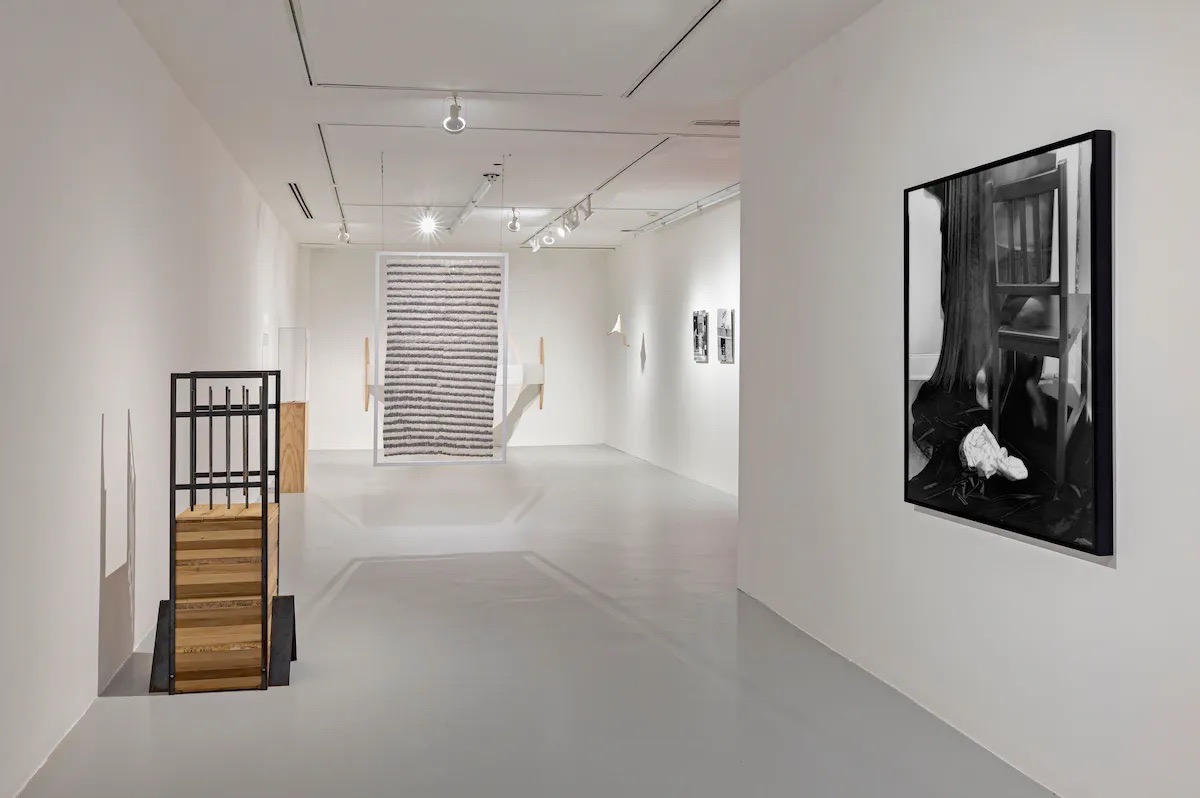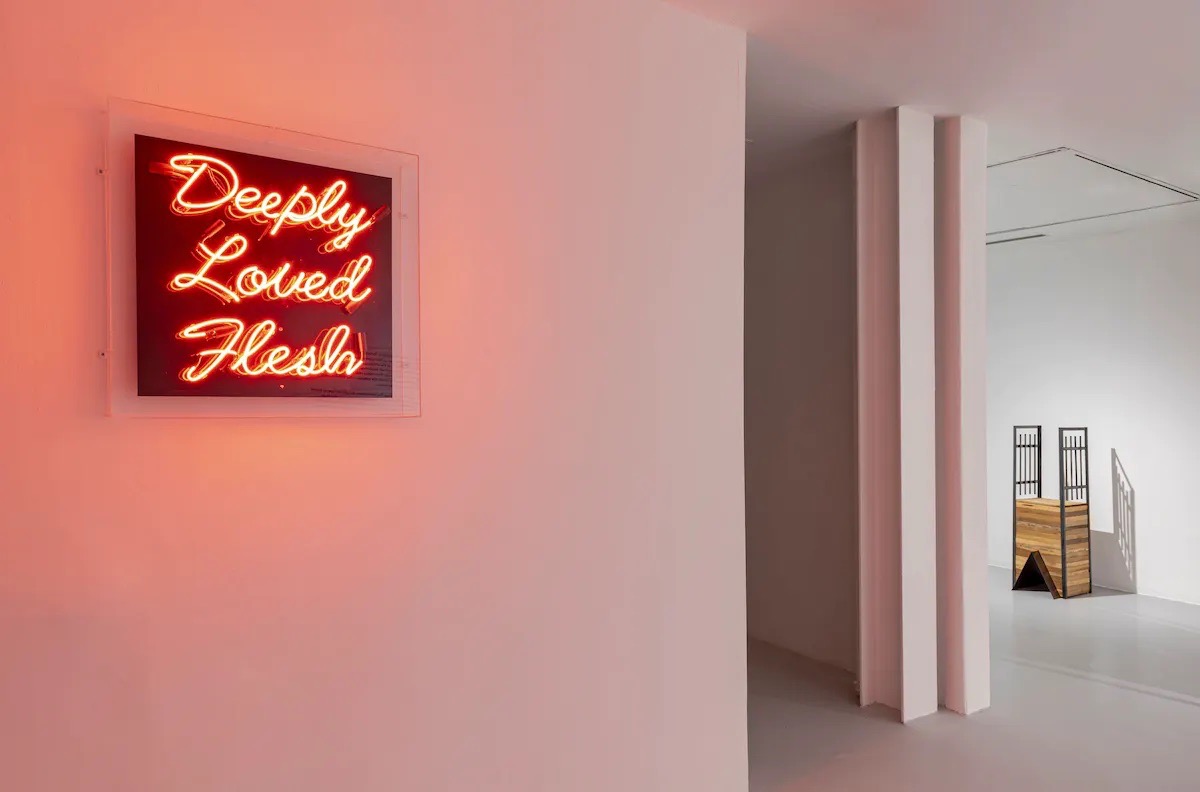 I am deeply honored to have the opportunity to exhibit my work in the group exhibition hosted by the Power Plant Contemporary Art Gallery "In paraellel" curated by Jacqueline Kok and Joséphine Denis.

in parallel is a two-part group exhibition that presents the work of twelve local artists, evoking The Power Plant's very first exhibition, Toronto: A Play of History (Jeu d'histoire), 1987. Both of the 2023 exhibitions will bring together tensions, hopes, and the transformative spaces artists create in the unfolding aftermath of settler colonialism. Specifically, in parallel highlights the intimate connections between land and body, while expressing each artist's desire for changes that can lead to an intercommunal future.

Opening on June 23, the summer exhibition showcases works by Ella Gonzales, Micah Lexier, Matt Nish-Lapidus, Erdem Taşdelen, Sami Tsang, and Shaheer Zazai, and will feature painting, textile, video, ceramics, sculpture, and an interactive scavenger hunt around The Power Plant's building.




---

Happy to share "Nissing" a digital project made possoble with the New Gallery in Calgary Alberta's Mainframe online gallery! You can see more at https://nissing.net/

Or check out the New gallery's website:
https://thenewgallery.org/archive

NISSING is a durational digital artwork where the viewer can watch as the sugar sculpture unfolds, melts and falls apart gradually over time. The work delves into themes of identity and erasure, particularly in relation to the ongoing colonial genocide of BIPOC communities in Canada. My approach involves creating sculptures with sugar molds that capture intricate human skin details while obscuring each face with brownish-red hues, deliberately homogenizing the cast's physical appearances to generate an ambiguous collective identity. My use of sugar practices, molding, and casting serves as a medium for conversation with my ancestors, and I utilize the forms to represent the countless missing and murdered individuals whose identities have been erased.

Through the accumulation of numerous sugar layers, my sculptures address familial, ancestral, and geological compositions, taking inspiration from the geological hoodoos found in badlands. These structures are made up of sedimentary rock layers that have accumulated over millions of years, and my sculptures aesthetically allude to this metamorphic process. By doing so, they pay tribute to the longstanding lineage and connection to the land that Indigenous Peoples have established, which is built upon a rich history of human and environmental layers predating European colonization.




New works found on site:



NISSING 2023


A durational digital artwork, where the viewer can watch as the sugar sculpture unfolds,melts and falls apart gradually over time.






As the user explores the digital website project, you may encounter hidden links, leading you to discover delightful surprises and gems from the creative process.




---

I am thrilled to announce my upcoming solo art exhibition, titled 'GINA'MATIMG: 'TIME OF ACQUIRING LEARNING.' This solo show will be held at The New Gallery in Calgary, Alberta, Canada.November 12th - December 23rd



Opening Reception /
Saturday November 12th, 7PM- 9PM




Documentation by Chelsea Yang Smith

GINA'MATIMG 'Time of Acquiring Learning': In Conversation with Julia Rose Sutherland:

https://www.youtube.com/watch?v=B453MJj_z6s

https://thenewgallery.org/GINA-MATIMG-Time-of-Acquiring-Learning-Julia-Rose-Sutherland
"GINA'MATIMG "TIME OF ACQUIRING LEARNING." Solo show. The New Gallery. Calgary, AB. Canada.

---



Join DesignTO Monday, June 13, 2022 at 12pm ET, for 'Body, Labour & Land in Contemporary Craft', the second in the 2022 series of 'In Conversation'.

This panel talk on contemporary craft brings together textile artist and educator Caryn Simonson, Mi'kmaq/Settler artist and educator Julia Rose Sutherland, and Yonsei artist and weaver Molly JF Caldwell. Together they explore the properties of materials both natural and synthetic, textiles as metaphors for community and body, labour as an act of repair and redemption, and craft practice as an act of resistance and invention.


---

Starting April 28, 2022
Land Back
Curator: Michael Patten
6th Contemporary Native Art Biennial (BACA)

The theme of the 6th Contemporary Native Art Biennial (BACA) is Land Back, referring to the Indigenous-leaded actions to recover stewardship of traditional lands and ecosystems, protecting them for coming generations.

The 6th edition of the Contemporary Native Art Biennial will take place primarily in May-June 2022 in four cities across Quebec. The Biennale will have eight venues: La Guilde, the Art Mûr Gallery, the Stewart Hall Art Gallery, the McCord Museum, the Maison de la Culture de Verdun – Quai 5160, the Sherbrooke Museum of Fine Arts, the Maison des Jésuites de Sillery and Expression – Centre d'exposition de Saint-Hyacinthe.

Land Back is curated by Michael Patten, the Director of BACA, with the support of guest researcher Alexandra Nordstrom. The exhibitions feature more than fifty Indigenous artists that have never shown in the BACA Biennial.

Other partners will hold satellite exhibitions in the spirit of the theme chosen for BACA, including the Laroche/Joncas Gallery, the She:kon Gallery and the daphne Art Centre, which will have their own independent proposal.


---
Be part of the last Field Trip of 2021 with Mi'kmaq (Metepenagiag Nation) / settler artist and educator, Julia Rose Sutherland (@julia.rose.sutherland). The Toronto artist will be sharing her artistic process and projects she is currently working on. Join us this Thursday 16 December 2021 at 6 PM by registering for this virtual event via the link in our bio. Navigating the trauma and social issues associated with her Indigenius roots, Sutherland's interdisciplinary art practice employs photography, sculpture, textiles, and performance. She is a recent recipient of the Canada Council for the Arts Creating Knowing Sharing award and the AFA Indigenous Individual Project grant.

---


I am excited to announce that I've accepted the offer to join the fantastic team at OCAD University! I'll be working alongside Inidiengous Visual Cultures and Material Arts and Design in textiles

---


Storytellers: Ann Moody in Conversation with Julia Rose Sutherland

The following is a transcribed excerpt from a conversation between Power Clash Contributing Writer & artist Ann Moody (she/they) and artist Julia Rose Sutherland (she/her). We're honored to share such a challenging, thought provoking, and important conversation on our platform.

Let's listen to Ann and Julia: https://powerclashart.com/storytellers-ann-moody-in-conversation-with-julia-rose-sutherland/

A note to our readers from interviewer Ann Moody: This text conversation represents only a small portion of what was discussed in my video interview with Julia. Many important, relevant topics had to be cut in the interest of space. I implore the reader to watch the full length video for more context [linked at the bottom of this post].

[Editor's note: Trigger Warning: this interview contains discussion of murder of BIPOC people, police violence, colonial violence & genocide, and grief.]

---

Opening of Touching Earth and Sky at the THE MACKENZIE ART GALLERY!! Curated the the wonderful Felicia Gay

So excited and thrilled to have been apart of this amazing opportunity to show at the Mackenzie Art Gallery, please check it you!


Touching Earth and Sky involves the work of artists Judy Anderson, Thirza Cuthand, Casey Koyczan, Bradley Larocque, Mary Longman, Shelley Niro, and Julia Rose Sutherland. Each artist has interpreted with poignant beauty their understanding of themselves and of their agency and connection as Indigenous people from Turtle Island.

"As a Swampy Cree person, I ask myself, "what is agency without connection?" We walk this world touching both earth and sky all at once. As living beings, we intuitively understand our engagement with many spheres simultaneously; our worldview is to understand and contemplate our connection to all things. There are a multiplicity of perspectives that involve how Indigenous people currently see themselves—the concept of belonging and not belonging is a condition of the heart for Indigenous people. After generations of colonialism, we have painfully or tentatively evaluated our connection to Indigenous spaces and manage our disconnections to culture and community daily. As Indigenous people, we navigate this world at times feeling severed, disconnected. Yet every day we are reminded of our complex integrated relationship to creation. Our understanding of who we are as a people is not severed, not fragmented, but perhaps only sometimes sleeping. We have agency with this land we have lived with for thousands of years, and we breathe in the stars that have watched over us all this time."


---
---

Words cannot describe the gratitude and honor I have to be included in this exhibition All Together, Amoungst Many: Reflections on Empathy. Curated by the one and only Rachel Adams, Bemis Chief Curator and Director of Programs.

All Together, Amongst Many: Reflections on Empathy explores the cultural and sociopolitical issues currently defining the United States. Presented on the heels of the 2020 U.S. elections, the work of 21 artists takes various approaches to understanding empathy and aims to awaken shared beliefs in humanity during these polarizing times. The artists are based across the United States and Canada and through their diverse, unique perspectives broadly engage ideas centered on land rights and Indigenous rights, climate change and the environment, food justice, accessibility and healthcare, immigration and migration, systemic racism, LGBTQIA2S+ rights, the criminal justice system, police brutality, and violence on all accounts. This exhibition, while not an exhaustive survey, provides a snapshot of America's turbulent society today.

Todxs Juntxs, Entre Muchxs: Reflexiones Sobre la Empatía explora los problemas culturales y sociopolíticos que definen actualmente a los Estados Unidos. Presentado inmediatamente después de las elecciones estadounidenses de 2020, el trabajo de 20 artistas toma varios enfoques para comprender la empatía y tiene como objetivo despertar creencias compartidas en la humanidad durante estos tiempos de polarización. Los artistas tienen su sede alrededor de los Estados Unidos y, a través de sus perspectivas diversas y únicas, involucran ampliamente ideas centradas en los derechos a la tierra y los derechos indígenas, el cambio climático y el medio ambiente, la justicia alimentaria, la accesibilidad y cuidado de salud, la inmigración y la migración, el racismo sistemático, los derechos LGBTQIA2S +, el sistema de justicia criminal, brutalidad policial y violencia en todos los aspectos. Esta exposición, aunque no es un estudio exhaustivo, ofrece una instantánea de la turbulenta sociedad estadounidense actual.



---


So excited and houner to be one of the summer session Artist in Residence at the Bemis Center for Contemporary Arts!

Bemis Center for Contemporary Arts

Founded in 1981, by artists for artists, Bemis Center for Contemporary Arts facilitates the creation, presentation, and understanding of contemporary art through an international residency program, exhibitions, and educational programs. Located in the historic Old Market, Omaha's arts and culture district, Bemis Center serves a critical role in the presentation and understanding of contemporary art, bridging the community of Omaha to a global discourse surrounding cultural production today.

Bemis Center's core mission has always been to provide artists from around the world dedicated time, space, and resources to conduct research and to create new work across conceptual, material, performative, and social practices. The independently driven atmosphere and communal environment encourage creative growth, experimentation, confrontation of challenges, and cultivation of new ideas. To date, more than 1,000 artists have participated in the residency program.

For more information, visit bemiscenter.org.

---

Virtual Artist Talk with Julia Rose Sutherland
May 20, 2021

The Contemporary Art Society of Vancouver is a registered charitable organization founded in 1977. We promote the understanding and appreciation of contemporary art by hosting a regular schedule of members-only events featuring prominent artists, curators, critics and collectors from around the world. Charitable Registration # 888445061 RR0001

---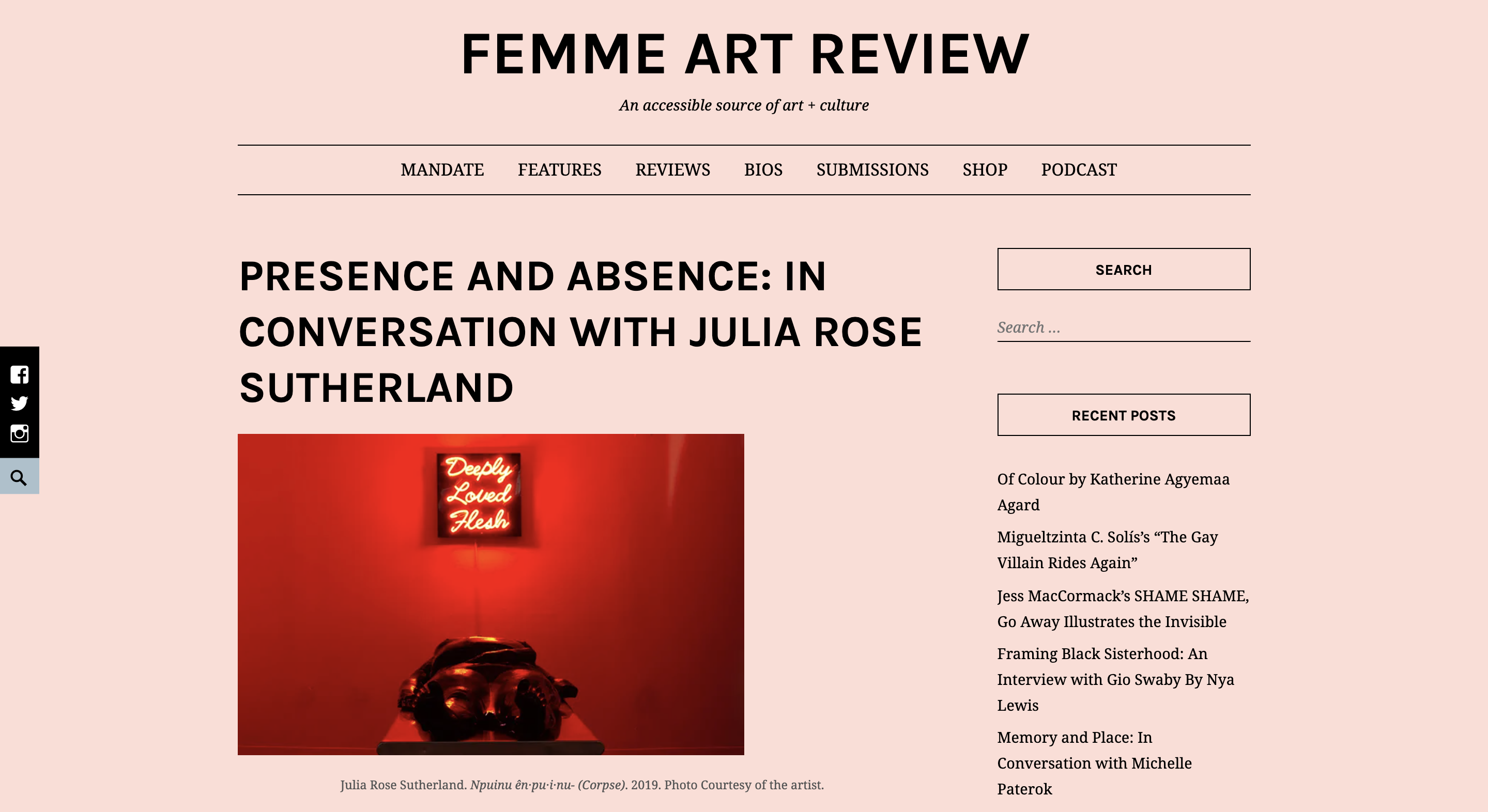 PRESENCE AND ABSENCE: IN CONVERSATION WITH JULIA ROSE SUTHERLAND

So thankful for this amazing Interview facilitated by Margaryta Golovchenko


---

So excited to share that y'all can find my work "Flesh Economics" in Canadian Art Magazine! @canartca https://canadianart.ca

Big shout out to Wil Aballe of @waapart for ongoing support, so honoured to work with you!

Cover image @kitekitekitekitekite and @aerial_ps 🥂


---


I'm excited to announce that K ART is soon launching a new exhibition on April 30th 2021 titled "Brought to Light: The Epidemic of Violence against Native and Indigenous Women" which will feature my work "Vigil: The Land Remembers" as well as work done by the amazing Jodi Lynn Maracle, Sonya Kelliher-Combs, and Natalie Ball.

"Photo-documentation will be shown of Julia Rose Sutherland's performance piece done at Silo City, Buffalo, NY, which gave remembrance and gratitude and sought to raise public awareness about the epidemic of missing and murdered Indigenous women in North America"

For more infomation: https://www.thek.art/exhibitions



---
Monday March 15 2021

I am honoured and excited to be speaking on a Women's Day Panel with the Women's Multicultural Resource and Counselling Centre of Durham.!

"Come celebrate International Women's Day with the Women's Multicultural Resource and Counselling Centre of Durham.

The theme this year is #ChooseToChallenge - Gender-Based Violence

We are honoured to present our guest speakers, Nadine Sookermany, Francisca Mandeya, Julia Rose Sutherland and Gemma Broderick.

Come join us in celebrating women!

Please register and a link to our Zoom event will be provided to you later."

https://www.eventbrite.ca/e/international-womens-day-choose-to-challenge-gender-based-violence-tickets-144689990657



---

March 08- March 31 2021
Announcing our Unmute: Virtual Artists-in-Residence!
We are delighted to announce the 9 artists from across Canada participating in our first ever virtual artist residency program this month!
Over the next 4 weeks these artists will be gathering virtually to collaborate, learn and share their artistic practice with each other. Their work together will culminate in our Artist Residency Showcase, happening on March 25 @ 7:30pm EST. We will be sharing more detailed profiles of these fabulous artists throughout the month. Be sure to visit https://www.artsunite.ca/national-launch/#mar25

for more on our National Launch programing!#artsUNITE #UNITEdesarts #AU_NationalLaunch #AU_Unmute #virtualresidency #canadianart #canadianartists

___________________________________________________________________________________________________________________________________________________
SUMMER 2021

Upcoming Show, "ALL TOGETHER, AMONGST MANY:REFLECTIONS ON EMPATHY" At the Bemis Center.Curated by Rachel Adams, Bemis Cheif Curator and Director of Programs.Postponed due to COVID-19.

More information here: https://www.bemiscenter.org/art/upcoming-new.html
___________________________________________________________________________________________________________________________________________________

Tuesday, Dec. 15th, 2020 to Friday, Jan. 15th, 2021

Show "BEING IN-BETWEEN/ IN-BETWEEN BEING" and Artist talk with Julia Rose Sutherland. "an exploration of intertextuality and identity by womxn and queer artists"

Curated by Jocelyn E. Marshall.

"After an opening lecture by the curator of Being In-Between / In-Between Being, Jocelyn E. Marshall, interdisciplinary artist Julia Rose Sutherland presents her work on "Protesting Through Traditional Craft." Sutherland discusses the events of Friday, June 12 2020, when her cousin Rodney Levi was shot twice in the chest and killed by the hands of a Royal Canadian Mounted Police officer on the Metepenagiag Mi'kmaq Nation reservation. The shared artwork responds to police brutality in North America, and, in particular, that of Turtle Island (Canada) and the ongoing colonial genocide of First Nations peoples. Overall, Sutherland gives an account on the subject matter of craft as mediation and resistance against ongoing violence."

Online Exhibition & Virtual Event Series found below:

https://arts-sciences.buffalo.edu/art/research/lower-art-gallery/lower-art-gallery-exhibitions/being-in-between.html

Filmed talk found here:

https://youtu.be/l10fvURN-Ms
___________________________________________________________________________________________________________________________________________________

Friday, Oct. 30th, 2020

You're invited to join Indigenous JHI Artist-in-Residence Vanessa Dion Fletcher & special guest artists for Quill Conversations, an online conversation series.

Porcupine quills were used in Indigenous cultures before the introduction of glass beads, dyed and embroidered onto clothing, moccasins and baskets. You are invited to find out more about the diverse and expansive ways these contemporary artists use porcupine quills in their art.

More infomation:
https://humanities.utoronto.ca/events/quill-conversations-1

Filmmed conversetation below
https://youtu.be/OcvxA5X5gp8
___________________________________________________________________________________________________________________________________________________

Tuesday, Sept. 22,2020


S1 Ep13 Julia Rose Sutherland A Mi'kmaq Womans Transformative Journey thru Art that Informs&Inspires.

Guest on the Talks With A Fox Podcast! "Oki! Welcome to the fox den, I'm your host Andrea True Joy Fox, a Blackfoot woman, teacher, and artist. Join me on this colourful journey of learning where conversations with inspirational leaders share their gifts, teachings and stories with the world. "I am a teacher, therefore I am a student for life."

Listen here:
https://youtu.be/7rYijQv1Gkg

https://www.buzzsprout.com/1157939/5545747-julia-rose-sutherland-a-mi-kmaq-woman-s-transformative-journey-through-art-that-informs-and-inspires
___________________________________________________________________________________________________________________________________________________


Work displayed at the Toronoto Art Fair 2020 via WAAP Gallery and Stephen Bulger Gallery mentioned in The Globe and Mail! written by art critic Kate Taylor.

Finf the artile here:
https://www.theglobeandmail.com/arts/art-and-architecture/article-torontos-stephen-bulger-gallery-offering-a-slice-of-normal-with-a/
___________________________________________________________________________________________________________________________________________________


Canadain Art mentioned my parcipation the the frist online Toronoto Art Fair!

https://canadianart.ca/features/editors-picks-art-toronto-2020/
___________________________________________________________________________________________________________________________________________________



Work displayed on Artsy.net via WAAP Gallery.
___________________________________________________________________________________________________________________________________________________
Wednesday Oct. 28- Nov. 7th FALL 2020

___________________________________________________________________________________________________________________________________________________

Friday, June. 12, 2020

"In recognition of Indigenous Peoples Day 2020, we sat down with Julia Rose Sutherland to delve deeper into her artistic practice, activism and advocacy efforts, and to discuss issues facing Indigenous women today."

To view the full interview click here: https://www.womenscentrecalgary.org/exploring-indigenous-issues-with-artist-in-residence-julia-rose-sutherland/#
___________________________________________________________________________________________________________________________________________________

Aug.1- Sept. 5th, 2020

___________________________________________________________________________________________________________________________________________________
Jan. 8th, 2019

https://agenda-pointcontemporain.com/tag/julia-rose-sutherland/
___________________________________________________________________________________________________________________________________________________

Thursday, Oct.17 - 28th, 2019.
"Tendere features seven AUArts BFA Fibre Alumni - Morgan Rose Free, Lindsay Joy, Karin McGinn, Vaughan McMillan, Natalie Lauchlan, Sabrina Sachiko Niebler and Julia Rose Sutherland. In Tendere, metier and materiality enact sympoietic conversations with ancestors, strangers, lovers and friends.

"Tendere" is an Italian word with its root in Latin meaning to stretch out, distend or extend. The gesture implied by the word is an outstretched hand about to act, to tend, to take care. A gesture analogous to the movements of hands that embroider, rub, prick, weave, and twist and sew.

The seven artists selected for Tendere examine the embodied meanings of materiality and process in contexts of personal identity, culture, ecological precarity and mutual contingency."

The exhibition is curated by Mackenzie Kelly-Frère (AU Arts alum 1998).

https://www.auarts.ca/tendere
___________________________________________________________________________________________________________________________________________________

WINTER 2019
TRUCK Contemporary Art (U-HALL Space)

An inquiry into the ways that we memorialize marginalized victims of murder and genocide, how we can activate memorial spaces to better honour these victims
Resistance against typical narratives which place the blame on victims of gender and race-based violence, a call for action against this violence
Analogous trauma, a collective mourning of unjust and violent deaths
A resilience forged through rage and grief, standing strong in the face of institutional and societal adversaries

Curated by Alicia Buates McKenzie

https://www.femmewave.com/project/claudia-chagoya-and-julia-rose-sutherland/
___________________________________________________________________________________________________________________________________________________

WINTER 2017

___________________________________________________________________________________________________________________________________________________